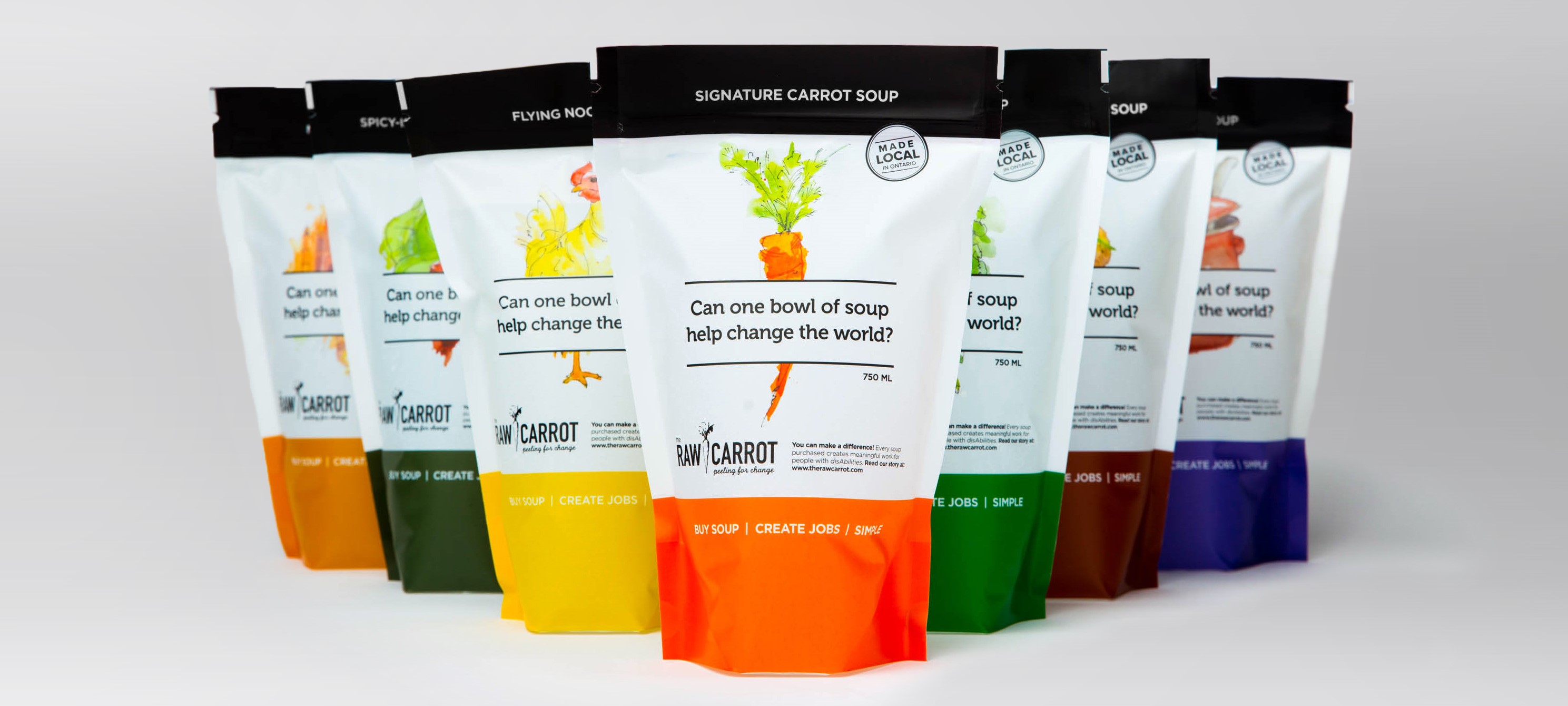 All of our soups are handcrafted in small batches and frozen for optimal freshness 
Our soups will fill you up with healthy goodness as ingredients are sourced locally from farmers who support our program! We ensure that our recipes are healthy, lean protein meals, that are free of any added preservatives. They are frozen making it an easy and nutritious meal anytime. We have packed as many veggies into the soups as possible (and hidden legumes and lentils) since our kids seem to easily chow down the healthy stuff when it is mixed in a warm, tasty bowl of soup. 
You can view the full nutritional information of our soups by clicking on the soups images below!
The co-founders of The Raw Carrot have 8 children to feed between them and wanted to create soup recipes that were healthy, filling, and full of all the amazing nutrients and minerals that nature provides. Plus, who can refuse veggies in a tasty bowl of warm and delicious soup?
Here is a handy listing of Vegetarian/Vegan, Gluten-free and Keto-friendly soups!
Vegetarian/Vegan
Signature Carrot
Hearty Lentil and Barley
Veggie Mania
Kale & Navy Bean (Seasonal Specialty)
Blistered Tomato & Red Pepper (Seasonal Specialty)
Gluten-free
Signature Carrot
Veggie Mania
Spicy-ish Italian Sausage
Mulligatawny
Kale and Navy Bean (Seasonal Specialty)
Blistered Tomato & Red Pepper (Seasonal Specialty)
Spring Asparagus with Lemon and Parmesan (Seasonal Specialty)
Keto-friendly
Blistered Tomato & Red Pepper (Seasonal Specialty)
Spring Asparagus with Lemon and Parmesan (Seasonal Specialty)
Bone-broth lovers
Flying Noodle (this gourmet chicken noodle soup is cooked with split chicken breast on-the-bone, making it super tasty, healthy and the best "cold-fixer" all at the same time