A Story of Acceptance and Belonging: Allison
Allison will be celebrating her five-year anniversary at The Raw Carrot in May. She speaks fondly about the family dynamic here. She sees her co-workers and Leah, the site's kitchen manager, as family. She can talk to them about whatever is going on in her life.
"It's a place where you can go to be accepted and treated equally," she says.
What Allison appreciates is that her manager Leah knows she's capable. She likes to prepare the mixed vegetables, "It's calming. Leah lets me go at my own pace. There's no end time. No pressure. The job is done when the soup is done."
Before her job at The Raw Carrot, Allison worked at seasonal jobs at a Halloween store and Party City. That was challenging for her so she worked with a job coach to find something more consistent and permanent. When the job became available at The Raw Carrot, she hoped she'd finally found the stability she was looking for.
The Raw Carrot understands that for people with disabilities and mental illness, jobs are often seasonal and unstable. That's why we are committed to offering permanent, part-time work to our staff. That way they have something stable and consistent they can rely on.
When asked how more funding would help The Raw Carrot, Allison pauses and thinks, "If people give more funds to the Raw Carrot, it will help her and the others stay employed. It would also help us buy more fresh ingredients."
Allison is happy that she has a job. "I learned new skills at the Raw Carrot over the years. I have been able to learn when I am comfortable interacting with others and when I need my down time."
After the interview, Allison is eager to send out a message, "We (people with disabilities and mental illness) want to work and are capable to work," she hesitates about saying more but continues, "We're not stupid, we're happiest when we get into a routine—a job is pretty important because it gives you money and helps with bills so you can share responsibility," she says.
She heard about the job on Indeed and her job coach helped her apply. At the time of the interview, she shared openly about her diagnosis but cautions that she isn't necessarily wanting to tell everyone about her challenges.
On a lighter note, Allison becomes animated when she talks about her love of reading fantasy novels. After helping her mom pay the cable and utility bills, and her bus fare, she loves to buy books with the money she takes home from The Raw Carrot.
Allison reluctantly adds, "My only complaint is that I'd like more hours and if Leah ever asks me to work a double shift, I say 'YES!'"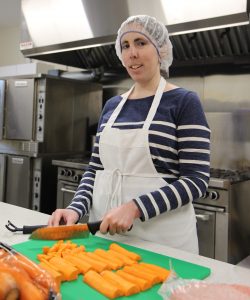 Growing in self-confidence and self-esteem: Monica
Monica has been working at The Raw Carrot Innerkip site since August 2019 when it first started and she hasn't had a bad day of work ever since.
"I love it! I love the people, I love the atmosphere, it builds my confidence and self-esteem. It's really rewarding," Monica says, "It's a great group of people to work with."
Monica laughs quietly as she shares that it's the only job where you can cry and laugh at the same time.  She's referring to all the onions they have to chop to make the soup. "We never go through a day of work without laughing."
Now 60, Monica recalls how life was before working at The Raw Carrot, "Before I mostly stayed secluded. I didn't socialize much. Now I come here and socialize and I'm more confident. I just feel so much better about myself."
Monica shares how difficult it is for someone like her, with PTSD (post-traumatic stress disorder) and fibromyalgia, to find suitable employment that takes into consideration her challenges. She thrives in a supportive work environment that accommodates her need for a low-stress and encouraging environment.
"I've worked a lot of jobs in my life. I worked in the military, as a counselor's assistant for a retraining program for people on welfare, I worked as a teacher's assistant, but this is my favorite job in a long time," Monica says, "I'm satisfied here."
Why should donors give?
Monica believes donors should support The Raw Carrot so more people like her can benefit from work that provides income, community, and self-esteem.
"Because it does tremendous things for people's self-esteem and when you're on a low income you don't have many things that you can do, especially if you're on disability. It's done amazing things for my morale."
What's more she says, "You get to contribute towards your own welfare."