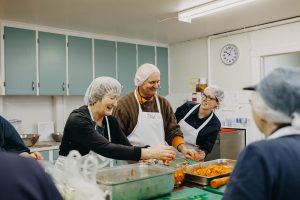 Volunteers
We have a very dedicated and hardworking group of volunteers! Our volunteers believe that their job is to support our staff in all aspects of their jobs, including skill development and quality control. At times, our staff are unable to work for one reason or another and our amazing volunteers step into the staff's role so that the business can continue and the staff have a job to return to when they are ready.
We would LOVE for you to partner with us!
The Raw Carrot thrives due to the partnership of many groups and individuals who devote their time and energy to helping us. We are thrilled to have many hands involved (or many wooden spoons in the pot, so to say!)
There are a number of different ways to help:
1. Cry in the kitchen…oops! I mean peel and chop many pounds of onions!!
◦ We often need assistance in the kitchen from around 9:30 – 12:00, or 1:30 – 3:30. This could be an ongoing commitment, or a very occasional 'shift' when we need an extra pair of hands.
2. Become a Soup Ambassador
• We would be thrilled to have people talking about The Raw Carrot to others and generating interest in the community of Paris or elsewhere. You don't even have to raise any funds…just spread the good news (and maybe sell some soup on our behalf as well!)
3. Have a garage sale…
• ….or a read-a-thon, or a road hockey tournament, or a bake sale, or a chili cook off, or…..well, you get the idea! Get some friends together and sell something and donate the funds to The Raw Carrot. The money can be donated to something specific, like the items on our current Wish List, or just to helping us on our way to creating more employment opportunities for individuals on social assistance in our community. 
4. Donate some veggies!
If you have a garden and could donate some fresh veggies, that would be an amazing way to support our program. We can't take teeny tiny ones b/c it takes too long to peel and chop them, but good sized varieties of vegetables that we use would be greatly appreciated. Please contact us (519 865-1965), for more info on this.
5. Speaking of the Wish List…
There are loads of ways that we would like to grow so that we can employ more people. If you are looking to make a larger donation, please let us know and we can send you our Wish List. We are able to offer charitable receipts for monetary donations or new items purchased with receipts.
• Your gift of $50 provides the ability to improve and upgrade the staff's kitchen tools – better knives, better chopping!
• Your gift of $120 provides culinary skills training for 1 staff member
• Your gift of $198 buys carrots for 1-month worth of gourmet soup – that a lot of carrots!
PARIS KITCHEN:
Selling Soup: a couple of hours a week at Paris Presbyterian Church selling our soup to the public
 Soup Shows: a couple of hours on a Saturday selling soup at a vendor show
 Inventory & Merchandising: support the physical inventory and merchandising of soup monthly
 Prep for Soup Production: shop weekly for items required to make soup
 For more information please contact Karen McWilliams, Kitchen Manager, Paris Raw Carrot; karen@therawcarrot.com
RAW CARROT HEADQUARTERS:
Volunteers wanted to help with social media: newsletters & blog post. Contact Rebecca: info@therawcarrot.com