Supporting Employment & Social Connections at the Raw Carrot (in the midst of COVID-19).
The past six months have presented us all with new challenges and a new understanding of employment as COVID-19 changed the way we work. Many of us were fortunate enough to have adjustments to our employment, some of these changes meant we worked from home, or ensured we had access to personal protective equipment.
Most of us still interacted with colleagues virtually, had family surrounding us at home, and scheduled phone conversation and online chats with friends.
Others were faced with challenges of maintaining employment, and social isolation, as they faced time away from family, friends, and colleagues.
One lesson was clear: the value of social connection remains so very important.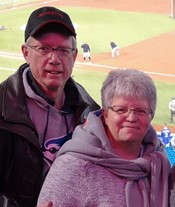 Gordon and Geraldine McCauley understand this well. Gordon is the President of Prodigy Graphics in Vaughn Ontario, a Canadian trade-only printing pioneer. With a team of employees, and remarkable family beside him, he understands the importance of social connectedness, and the role employment plays in creating bonds.
This is why Gordon and Geraldine chose to make a $12,000 gift to support The Raw Carrot. The McCauley's gift is the single largest gift from an individual that The Raw Carrot has received. In a time when challenges are numerous, generosity from the heart is making a big impact, ensuring individuals living with physical, mental, and developmental disabilities have access to meaningful employment – and social connectedness.
After reading about the work of The Raw Carrot in Glenbrook Presbyterian's annual report they were inspired to dig deeper and learn more about an organization aiming to providing a hand UP to those struggling, in lieu of a handout.
As strong supporters of front-line missions like Evangel Hall and Square One Open Door, the McCauley's feel called to purposefully search out organizations, like The Raw Carrot, that answer the question posed in James 2:14 (""What good is it, my brothers and sisters, if someone claims to have faith but has no deeds?") and help support them to do the work that God has called them to.
And that is what they have done. Their incredible gift will help provide meaningful employment, and social connectedness for the almost 30 employees at The Raw Carrot. While navigating a global health pandemic, the social relationships and additional income Raw Carrot staff receive from their employment has never been more important.
Like gifts to Presbyterians Sharing and PWS&D, the McCauley's gift demonstrates God's amazing love in action. Through sharing the diverse work that our denomination is involved with, we can multiply impact and give to those ministries that resonate with our areas of passion.
As a social enterprise, The Raw Carrot relies on both the sales of their hand-crafted gourmet soup and the generosity of their community of donors, including Presbyterians Sharing, to fulfill their mission of providing meaningful employment for those living with physical, mental, and developmental disabilities. To learn more about The Raw Carrot and how you can get involved (or purchase soup!) please visit www.therawcarrot.com