Mennonite Central Committee Ontario
LOCATION
Our Kitchen is located at Stirling Avenue Mennonite Church: 57 Stirling Avenue North, Kitchener
Soup Pick-Up Hours is at the MCCO Head Office: 50 Kent Ave Kitchener on Wednesdays between 11:00am-3:00pm 
Also, you can find your favorite soup at these retail locations:
Full Circle Foods: 3 Charles St. W,. Kitchener, (Mon – Sun)
Vincenzo's: 150 Caroline Street, S., Waterloo (Mon – Sat)
Chelsea Market: 710 Belmont Ave W., Kitchener (Mon – Sun)
Victoria Street Market: 1575 Victoria Street North, Kitchener, (Mon-Sun)
Farm Boy: 385 Fairway Rd S., Kitchener, (Mon-Sun)
Herrle's Country Farm Market: 1243 Erbs Rd, St. Agatha (Mon-Sun till Oct 31st)
For more information or to purchase soup from our Kitchener location contact Jenn: jenn@therawcarrot.com or 226-338-4956.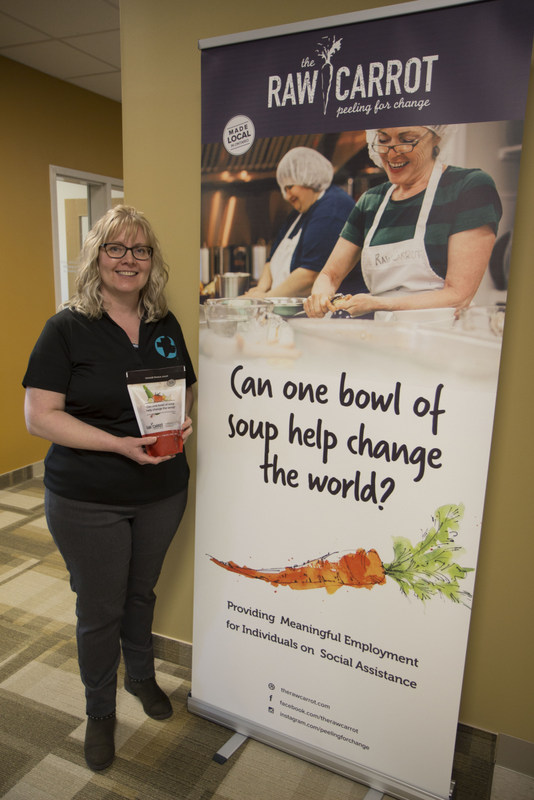 About Our Location and Manager 
Mennonite Central Committee Ontario, Stirling Avenue Mennonite Church and The Raw Carrot Soup Enterprise have teamed up to start a location in Kitchener.
Raw Carrot Extension Site Manager Jenn Klassen has a big heart for people in need. She started working with a large "Saturday Supper" program at Stirling Avenue Mennonite Church a number of years ago where 150-200 community members come for a meal. It was out of this initiative that one young man said to her "I just want to feel useful". It was these few little words that resonated in Jenn's heart and planted the seed for her future work with The Raw Carrot. In 2018, Jenn was part of a site visit to The Raw Carrot when MCCO was exploring a partnership with Stirling Mennonite Church & The Raw Carrot. Immediately, she saw the value of people "being useful, being involved and having a reason to get up in the morning, something to do, something to be counted on for". Jenn interviewed for the job and we knew within moments that she was the right fit! You can find Jenn at Stirling Church cooking up delicious soup with her staff members!!